A manicure can make your hands look better, especially for those with fair complexion. The effect of manicure is simply a visual pleasure. Also, girls with defective hands may be able to modify their hands after doing nail art! So, the next Purple Nail Gel Polish Wholesaler will introduce you to some nail art.
[1] Haze blue + smiley manicure
Speaking of smog blue, I believe no girl has never seen it, because it is really too hot! The haze blue is still hot to Japan, ins Japanese small fresh haze blue nail art because, with the two smiling faces of the thumb, it is really girly! This manicure is suitable for any skin tone and hand shape~
[2] Small fresh green + nude nails
The very popular Japanese small fresh green + nude color nail art is really super simple, low-key, and generous. After doing this nail art, the hands look good. The combination of solid green color and nude color, as well as green leaves and other nail elements, makes this nail style more unique, which instantly arouses girls' hearts!
[3] Japanese gradient nail art
Gradient nail art gives people a sense of fantasy, which is just like the pictures in anime, which not only looks energetic and young but also gives people a very romantic feeling. This ins Japanese small fresh gradient nail art, the color gradient is perfect and just right, and the silver shiny surface is embellished, adding a girlish atmosphere.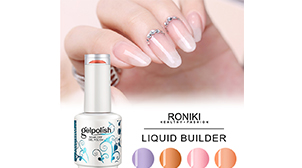 Nail Polish
[4] Japanese small fresh lavender manicure
Pale purple nail polish, with stripes embellishment, is more vibrant and girly. The color of this manicure is very low-key and gentle, suitable for girls with fair hands, not suitable for MMs with dark and yellow hands! A manicure that is a very Japanese anime girlish style, very suitable for cute girls.
[5] ins Japanese color matching nail art
Put together the haze blue and lotus root pink nail art, it is also very small, fresh, and beautiful! This kind of color matching nail art combination is very popular on Japanese ins. It not only modifies the hands and adds beauty, but also combines two super white nail colors to make the hands more white!
[6] Dreamy colorful blue nail art
This dreamy and colorful blue nail art, just at first glance, I like it! The girl's heart was immediately aroused. This dazzling and dazzling blue nail art is very eye-catching, and it is hard not to be noticed. The beautiful gradient colorful blue gives people freshness, naturalness, and infinite reverie, and this color is very white~