For years, there has been a debate on how to choose the right nude nail color for your skin tone. Some say it's going a shade darker or lighter than your skin, while others say it should mirror your fingertips. While we don't believe there are rules when it comes to wearing color, we do believe in helping you find your most flattering personal shade of nude. To help you, we created a guide with light, medium, and deeper skin tones in mind so you can find the best nude nail polish color to compliment you all year round.
Before you begin, you'll need to know if you have warm, cool, or neutral undertones. To find out, take a look at your veins. If they're green to olive, you have warm undertones, which often look best with gold accessories. If they're blue-green, you are neutral which pairs well with rose gold, and if they err on the side of blue-purple, you're cool, which looks great with silver. Read on to see our nude nail color picks for your skin tone, as well as what types of accessories flatter you best.
Nude Nail Colors for Light Skin Tones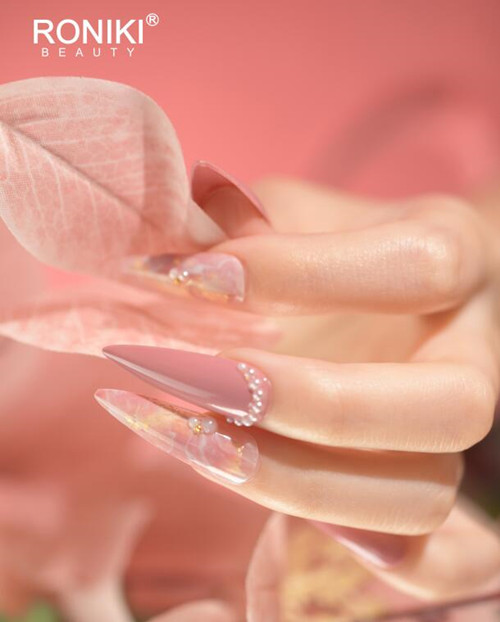 If you have light skin with blue or purple undertones, you'll want to reach for soft pinks. For blueish-greenish undertones, a peachy shade or a warmer pink will stand out - pair these shades with rose gold accessories, a metal that's always flattering for this undertone. Olive undertones can opt for warmer hues.
Nude Nail Colors for Light Medium Skin Tones
Light medium-toned skin with cool undertones not only look great with silver jewelry and nail shades. Blue-green undertones can go cool or warm.
Nude Nail Colors for Medium Skin Tones
Put it in Neutral and Passion are favorites of ours for skin tones with cool undertones - pinky beiges will always flatter you. Blue-green undertones will look best with warm shades, while opaque creme polish will perfectly flatter warmer toned skin - this undertone and shade also look great with gold accessories.
Nude shades are vintage and suitable for everyone in nearly any ages. Some people are not much into wearing too fancy colors on nails. That is why nude colors are created to close to the skin tones. We share the same planet and we have one love for this world. We RONIKI mainly put our effort in developing and creating more nude colors this year. All favorite colors and ideas from you can be received and recorded. It will be huge help for us. When we launch, you will be the first to know.