For practitioners, professional nail art not only relies on the skills at the fingertips, but also requires a series of related knowledge behind it, design aesthetics, material principles, biological basis, etc., and even meticulous service etiquette for customers.
So, whenever you complain about the chaos in the nail industry, the low price per customer, and the turmoil of customers, have you ever checked yourself whether you have truly professional technology and high-quality service?
Today, UV Gel china Wholesaler is talking about what is a Japanese nail art?
What is the difference between Japanese and traditional nail art?
【Japanese Nail Art·Core Concept】
The core Japanese teaching philosophy is to bring beauty to customers on the basis of safety and health.
In addition to understanding the growth structure of nails, manicurists also need to understand basic pathological knowledge of nails, as well as standard operating procedures for hygiene and safety, and also how to deal with unconventional conditions, because these are the keys to supporting the work.
I have heard the news that too many nails will become thin and soft if they are done too much, and even many nail art practitioners have said this, which reflects that many people currently lack the most basic nail art knowledge.
Violent operations caused damage to the nails; blindly judged the "pathological" nail conditions of customers; poor sanitation management caused customers allergies and even bacterial infections.
This shows how important it is to know professional knowledge.
In Japan, you must have gone through systematic study and passed the professional nail technician certification examination before you can be on duty to serve guests.
Therefore, the real Japanese nail art is the service presented by building a safe and healthy nail art knowledge system. I don't use Japanese products. If I can make the corresponding styles, I think it's Japanese nail art.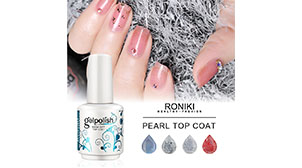 One Step Gel
[Japanese nail art·standardized operation]
Standard and hygienic setting and operation are the most basic requirements of a Japanese nail salon.
Strict hygiene management
Standardized environmental sanitation standards and operating procedures, services based on the premise of ensuring the health and safety of guests.
Rigorous disinfection procedures
The disinfection link is very important. Both itself and the customer need to go through a complete disinfection procedure. In addition to spray disinfection during daily use, the tools must also be disinfected regularly.
Detailed tool differentiation
Understanding, using, and daily maintenance of tools, clearly understand what different tools are used for different steps.
Standard table setting
Desktop partition planning, tools are placed on the basis of convenient operation, timely replacement, and tidy at any time.
"Details are the devil", these words can not be more appropriate to describe the manicurist.
Each of the above steps and each concept contains too many details. These respect and demanding details are the foundation of Japanese nail art. Our company provides high-quality One Step Gel. If you are interested in our products, please feel free to contact us.