Now, there are so many options when it comes to nail polish that you may be stuck not knowing which nail polish is right for you. Matte Gel Polish Supplier will show you the difference between gel nail polish and classic nail polish.
More than 100 million people in the United States use nail polish. However, nail polish selection has come a long way since it was first used. In addition to fake nails and newer options, you can also choose regular nails or gel nails. What is the best choice for nails?
If you are committed to preserving your nails, you can choose regular nail polish or gel nail polish.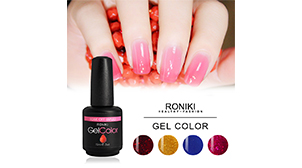 About Regular Nail Polish
If you use traditional nail polish for a manicure, it will look like this. A technician will remove all old polish from your hands, trim and base your nails, give you a little hand massage, and then apply primer, polish, and finish.
Of course, you don't need a salon manicure. Many people like traditional nail polish because it can be used easily at home without any extra equipment. Regular nail polish is easy to apply and remove, so you can change the color as you want.
However, traditional nail polish has one major drawback: it's easy to crack and damage. It may take a long time to dry, but even if it's ok to dry, it won't stay on your nails for very long.
This can lead to frequent retouching and reapplication, which can be frustrating. But luckily, this is where gel nail polish comes in.
All about Gel Nail Polish
Gel nails cost more than regular nails -- you almost always have to do them in a salon.
Gel manicures take longer to complete. The polishing process is very similar to a traditional manicure. Your nails will be deformed and cleaned, your hands will be taken care of and primed before coloring.
Then, change the application process. After adding the gel primer, your nails will be exposed to ultraviolet light to "cure" the polish. When finished, each new layer of coating is exposed to ultraviolet light all the way to the top layer.
Why go through this long process? Many people like gel nails because they last much longer than a standard manicure. Gel glazing agents do not break, so you can use them for weeks at a time. When nails grow too long, just change or remove them.
If you want to grow out natural nails, the gel is also a good choice. The gel adds a protective layer that helps prevent nails from breaking.
However, one disadvantage of gel polishes is that they are difficult to glue. You may even find yourself going back to the salon to remove the gel polish. The polish must be saturated. Also, if you regularly manicure your nails, you will need to use sunscreen to protect your hands from potential UV damage.
That said, a gel manicure is great if you use your hands often and want your nails to last.
What should you know before you get a manicure?
Gel nails are natural nails
Some of you may have heard that glue nails are another type of fake nail. However, gel manicures are different from acrylic.
Place acrylic on natural nails to make them look longer. Gel polish can be applied to nails you already have. It changes the color but does not increase the length.
Your nails don't need air
Gel polish can seal nails for weeks at a time. Some people may avoid it because they think their nails need to "breathe." However, your nails don't really need air at all.
The gel polishes actually cut off the nail's air supply. Of course, the same is true of regular polishing - it doesn't last very long. However, nails are not a living part of the skin, they are a part of the skin. It's perfectly safe to isolate them from the air.
Gel polishes to weaken nail beds
They will weaken your nail bed, although it won't harm your actual nails.
Your nails themselves are not sensitive to air or lack air, but your nail bed and cuticles are not. Although gel polishes should not be used in these areas of the nail under any circumstances, the removal process can damage the nail bed. You should generally avoid removing gel polish at home - professionals will know what to do without causing damage.
You can remove the gel at home
Although a salon is ideal, you can remove the gel polish at home if you really want to. But you need to take the right approach to avoid damage. The cotton balls are dipped in pure acetone polish, then wrapped in foil and fixed to each nail. Leave the acetone on the nails for 15 minutes or longer to soften the gel. Then, use a cuticle puller to gently slide it out of each nail.