Nail extensions are basically false nails. This is a fashionable accessory worn on the nails. Even if your nails are short, you can do nail extensions because the nail extensions maybe longer. For those with shorter nails, nail extensions can help you get longer nails instead of actually letting them grow out. These extensions come in several shapes and sizes. However, in order to ensure that your extension is in the best condition, you still need to pay attention. Some people suggest that you check it every two weeks. Nail extensions are also often longer than other manicures.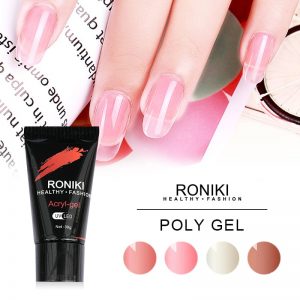 What is acrylic nail extension?
---
Acrylic nail extensions are the most common type of nail extension, almost everyone knows! Acrylic nails are a paste made from a mixture of monomer liquid and polymer powder, which sticks to your natural nails and nail tips. This paste will harden over time and can last for 3 to 4 weeks.
Advantage
Acrylic extensions are suitable for women with fragile nails.
Acrylic is good for women, they have the habit of chewing nails because nails are difficult to chew off.
Acrylic nails have a longer history than similar products, so most nail technicians in salons and spas have extensive experience in how to apply and remove these nails.
You don't have to worry about such side effects.
They last longer than gel nails.
Disadvantage
If they are not removed properly, they can damage your natural nails.
Because acrylic nails are artificial, they present a fake look. You need a very talented technician who can bring your acrylic resin close to nature.
The use of acrylic nails involves the use of strong chemicals and the formation of fumes. Some women may be allergic to these substances.
You need to renew every month, which means additional expenses.
What is gel nail extension?
---
Gel nail extensions, also called gel overlays, involve applying a thick layer of transparent gel on your natural nails or nail extensions. These require the use of LED or UV light exposure to be effectively set.
Advantage
Because they are very light, they cause the least discomfort
Different from other nail care, gel nail extension does not have any smell
They will not cause any damage to your natural nails, in fact, they protect your natural nails and help them grow
Gel nail extensions look more natural
Due to their flexibility, gel nails are not only easy to sit down, but also prevent fragments
Environment safety
Disadvantage
Will it be a bit expensive
Since gel nail extensions require UV exposure, you cannot simply buy a gel nail extension kit at home to try gel nail extensions
They can only last about 14 days, which reduces their durability
Removal of gel nails is very tricky and time-consuming
Nail Extension Series- 5 in 1 Gel Polish( Five different funtion in one bottle)
---
1. Glue Gel: It can be used to stick a variety of nail decorations
2. Strengthen Nails: To do an extension of your own nails as builder gel
3. Wipe Top coat: Can be used as a top coat
4. Base coat: After cleaning your nails, it can be used as a base coat
5. Extension nail with tips: When you use nail tips, you can use them as liquid adhesive
Please check the video to show you how it can be used to "strengthen nails".
We are a nail extension supplier, please feel free to contact us if you need them.