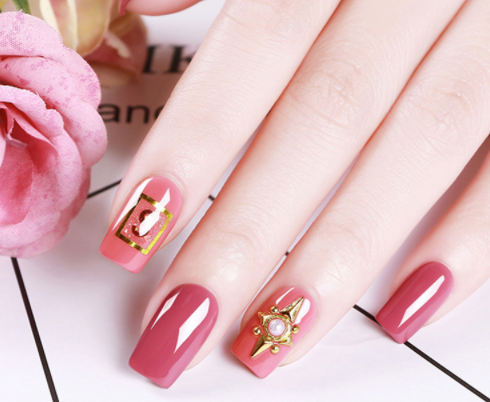 UV gel polish is a nail polish that allows you to enjoy beauty.
Check the nails for up to 3 weeks. The main difference between classic nail polish and UV gel nail polish lies in the composition and needs to be cured on LED or UV lamps.
Hybrid nails are made like traditional nails. The only difference is that we use a special UV gel polish instead of traditional paint.
The basis for implementing hybrid nail art is the proper preparation of the nail plate.
Before using UV gel polish and curing it with a lamp, you need to prepare a nail plate. Use a buffer block to gently peel off the skin where the deck and the polished deck overlap.
The next step is to apply: the base layer, the two selected colored UV gel polishes, and the top layer. Curing each layer of lights. Remember, the base and top must also be cured with LED or UV lamps. The curing time mainly depends on the power of the lamp (UV or LED) and the pigmentation of the UV gel polish (the darker the color, the longer the curing time).
Hybrid nail art provides beautiful nails, no splashes, no streaks, no squeaks, and most importantly, this UV gel nail polish is fully cured under UV rays or LED lights, so our nails are instantly dry and shiny (unless you decide There is a matte effect ;-))
Hybrid nail polish, also known as UV gel nail polish, combines the characteristics of washable nail polish and classic nail polish. They are suitable for manicures and pedicures, guaranteeing strong luster, durability, and beautifully saturated colors.
The composition of mixed varnishes usually depends on the manufacturer (more and more simplified mixed variants, such as single varnishes). It is also important that the mixed varnish has the correct consistency so that the nail polish does not flood the skin.
Due to its formula, UV gel nail polish removes acetone or acetone liquids (such as acetone cleaners) and moisturizers from the surface. After removing the nail polish, it is important to properly care for the nail plate and use a special olive to moisturize the skin before applying new nail polish.
In addition to traditional mixed varnishes, you can also get mono varnish-unlike mixed varnishes, this varnish does not require a separate base and surface coating. Just apply paint and cure in the lamp. Depending on the steel plate and operation, these nails can last for 7 to 14 days. For those fragile or brittle nail plates, we recommend the classic hybrid varnish.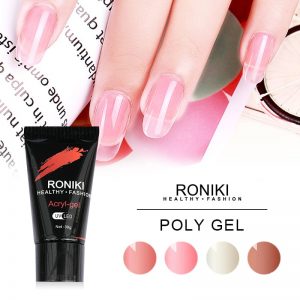 What Is UV Gel Used For?
UV gel is used in the process of applying gel nails. You or your nail technician will place the UV nail gel directly over your natural nails, using an applicator like you would with nail polish. The gel provides the strength and durability that acrylic nails have. The clear gel has a thin consistency and protects your nails from blemishes that can occur when you do tasks such as washing dishes or typing on a laptop.
What Are the Benefits of UV Gel Nails?
There are a lot of benefits to using UV gel on your nails. First, UV gel lasts a long time. Regular nail polish only lasts for a few days, even when you do your best to keep the color fresh. On the other hand, gel nail polish lasts an average of two weeks and may even last up to two if you take very good care of your hands.
Gel polish also protects your nails. If you have weak nails, acrylics may be too tough on them. Of course, leaving them bare leaves them exposed to the daily damage your hands take, though. UV nail polish is a good solution because it protects your natural nails without doing the damage that acrylics can.
Finally, UV nails look and feel like your natural nails. Acrylics are often easy to spot, but gel nail polish uses such thin layers that the nail is as flexible as it would be if you didn't have any polish on at all. The lack of rigidity provides a more natural feel as well.
How To Use UV Gel on Nails
Applying UV gel on the nails is quite simple. It comes in a bottle that looks just like traditional nail polish and is applied in the same way. Use the brush to cover each of your fingernails in a thin layer of the clear gel, avoiding getting the gel on the skin itself. You can prevent this from happening by first using a cuticle pusher to outline the outside of your fingernail. After you apply the gel, you'll need to dry it under a special UV light for about two minutes.
After the first coat of the gel is dry, apply a second coat to each of your fingernails and dry them under the light for an additional two minutes. Finally, to protect the gel nail polish you used, you'll need to apply a clear topcoat to each of your nails. Once applied, avoid using your hands as much as possible for at least 30 minutes so that the topcoat can try thoroughly. Finish up by using a cotton swab dipped in cuticle oil to oil your cuticles and create a sleek look.
How To Remove UV Gel Nails
If possible, have a professional remove your UV gel nails. Doing it by yourself can be tricky and if you mess up, it can even cause your nails to become weaker. However, if you must remove them by yourself, it is important to follow the steps exactly. Avoid using aggressive scraping or peeling motions, which can pull off layers of your fingernail in addition to the polish itself.
Head to the nail section of your favorite beauty or department store and purchase a dedicated gel remover or 100% pure acetone. Keep in mind that gel remover is more expensive but is usually the better option since pure acetone is not as gentle.
Once you purchase what you need, you must follow several steps to remove the UV gel nail polish. First, use a coarse nail file to buff the surface of the gel and break through the clear topcoat. After this, if you're using a dedicated gel nail polish product, follow the manufacturer's instructions.
If you are using acetone, soak a cotton ball in it, place it on top of your nail, and wrap foil around it to keep the cotton ball in place. Do this with all of your nails. Once every nail is covered, you'll need to sit for about 15 minutes while you wait for the product to work. When you slide the foil and cotton balls off of your fingers, the gel should crumble. If it doesn't crumble yet, you'll need to soak your fingers for a little longer.
If the gel is crumbling, use a cuticle pusher to push the rest of it off of your nail. After you remove the color, some of the original clear UV gel may still be on your nail. You can remove this by washing your hands thoroughly and then smoothing it out with a four-sided buffer. Once you're done, use moisturizer and cuticle oil to rehydrate your nails and keep them healthy and beautiful.
We are a UV Gel Polish china Wholesaler. Please feel free to contact us if you are interested in our products.