When it comes to a fresh manicure, we know that choosing the right system can be tough. Check out our guide below to help weigh your options and learn the difference between gel and acrylic nails, so you can make the best choice before your next salon visit.
ACRYLIC NAILS:
---
If you are someone who follows the latest trends when it comes to new nail shapes and prefer longer lengths, then acrylic nails are for you. Here's the breakdown:
How long does it last? Acrylic nails typically last between 2-3 weeks and can be 'filled' to help accommodate the growth of your natural nail.
How is it applied? A long nail tip or nail form is applied to the natural nail using an adhesive slurry of mixed powder and liquid. Want to get a better idea of how your salon visit might go? The diagram below illustrates the steps on how to apply acrylic resin nails.
How is it removed? Acrylics are removed with a non-damaging soak-off technique. Pro Tip: Because acrylics and acrylic-alternative dipping powders like Powder Perfection remove similarly, this removal method works for both!
Who is meant for? Acrylics are perfect for those who are looking for added durability and length, as well as shapes that are hard to achieve with natural nails—like stiletto and coffin. The traditional acrylic look uses a pink and white powder combination to create a French tip, but there's so much more to offer when it comes to this system! The color choices on top of an acrylic base are endless, and because no natural oils ever come in contact with the color application, nail art, and your favorite shades are far less likely to chip.
Want to try it? RONIKI acrylic gel, also called poly gel, combines acrylic and gel characteristics. The trendy colors are clear, nude and cover pink, which were sold in tons and cartons. RONIKI acrylic gel carries 30g and 60g for starters and professionals.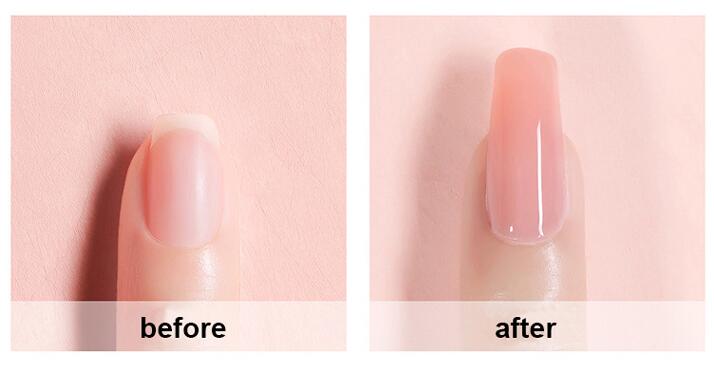 RONIKI acrylic gel
GEL NAIL POLISH:
---
If you are someone who wants color that lasts, gel polish is for you. Not only does it offer major shine, but there's zero dry time too. Here's the breakdown: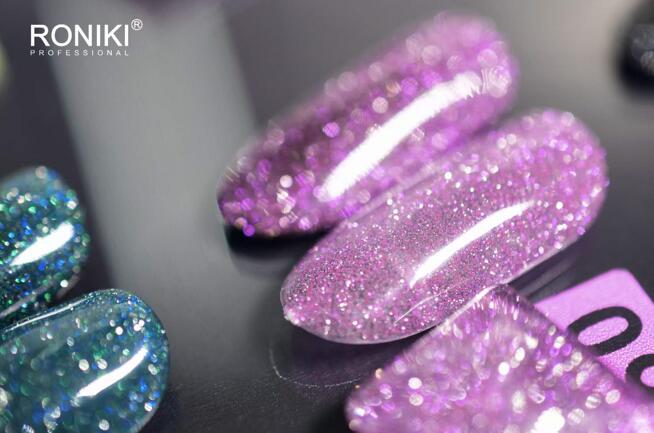 Disco gel
How long does it last? Up to 3 weeks.
How is it applied? Gel polish is applied in three separate parts: a gel base coat and a solvent-free top coat that makes nails extra durable. Nails are cured under an LED light for 30 seconds after each coat is applied. Bonus -- gel nail polish can be applied on top of acrylics and natural nails alike!
How is it removed? Removing gel nail polish is a simple soak-off for non-damaging results.
Who is meant for? Those who love creative effects, nail art, and self-expression with long-lasting and durable color.
Want to try it? We still promote the trendy disco gel with the range of 12 classical colors. The effect of discoloration and reflectivity is so good, specially under the spotlight. It is suitable to apply on gel nails, acrylic nails and natural nails. The best-selling color is No.1 silver.