1. Colorful gel polish and nail polish are nail products.
2. Another name of nail polish is called nail lacquer, which is a kind of paint that can be directly applied on the nails, and the nails are bright in color and play a role in beautifying.
Nail polish is divided into oily nail polish and water-based nail polish. Oily brands are more representative of OPI.
Nail polish is actually similar to correction fluids, paints and the like, that is, the effective color paste ingredients are dissolved in a solvent. After application, the solvent evaporates, and the remaining ingredients form a film and adhere to the nail surface.
Water-based colorant nail polishes are naturally water-based, while oily ones are organic solvents (such as ethyl acetate). The benefits of using water as a solvent are obvious. Water is mild and non-irritating. It is relatively healthy. So what is the problem with water as a solvent? Naturally, it has poor water resistance and is easy to fall off when it encounters water. Oily ones can only be washed off with organic solvents. Sex is better. Relatively speaking, water-based nail polish is more environmentally friendly than oil-based nail polish.
3. The effect of nail polish is the same as that of nail polish, but the ingredients are completely different. It is a kind of phototherapy glue, a resin, similar to plastic. The operation method is completely different from nail polish. A binding agent is required, and then colored nail polish and sealing agent are applied. Each layer needs to be hardened under ultraviolet light and then can be applied. But the hardness and gloss are much better than ordinary nail polish, and the holding time is longer. The disadvantage is that it hurts more natural nails!
4. If a person applies nail polish at home and wants no smell and health, apply water-based nail polish. If you think the water retention time is not so long, you can consider oily. Nail polish feels more used in nail stores.
Many nail art novices often apply nail polish badly and often make four major mistakes. Here are some popular science.
1. Repeatedly apply in the same place when brushing, the brushes are dry, causing heavy brush marks on the surface and uneven application;
2. The bottom layer is lighted, and a layer is applied before the bottom layer is dry, with uneven air bubbles on the surface;
3. Gel polish is only applied on one layer, and the saturation is relatively low;
4. Nail Polish Spilled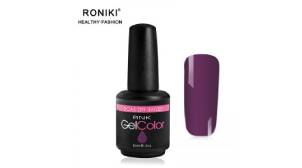 Colorful Gel Polish
Pay attention to:
1. When applying, apply evenly from the trailing edge to the leading edge. Do not repeatedly brush back and forth in one place. One is uneven and the other is easy to pile.
2. When applying it, apply it thinly and repeatedly. Be patient, don't expect to brush it once.
3. Do not apply too much at one time, too thick, it will not be easy to dry;
4. Don't take too much glue to avoid overflowing the edges
5. Keep a gentle and parallel application with the nails, and perform the pen operation with the self-flow speed of the glue.