Gel polish packaging is similar to traditional nail polish, which comes directly with a brush. However, because nail polishes are subject to light curing, the outside of nail polish bottles must be painted to prevent light transmission.
It is non-toxic, odorless, environmentally friendly, etc. It has the gloss of the glue and the color of the oil. For natural resin, it has the characteristics of environmental protection, non-toxic, health and safety, compatible with the common advantages of gums and nail polish, full and clear color, easy to apply, quick-drying instantly, and gloss lasting longer. Star masterpiece. When it first appeared, it was also called QQ nail polish, HAPPY glue, etc. Some good nail polishes on the market can be removed with ordinary nail polish remover.
Because of its special characteristics, nail polish is more durable than ordinary nail polish, easier to operate, and more convenient and diverse in the design of nail designs. The most important point is that after applying nail polish, the ladies who love nail art need only to light up for about 1 minute and they are completely dry, and they can use their hands to do anything immediately, and never have to apply it as before. The nail polish had to stretch out her ten fingers to wait for it to dry out slowly, for fear of accidentally damaging it and losing all its achievements.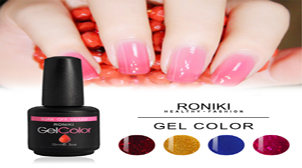 Gel Polish
In recent years, with the rise of the nail industry, fluorescence color nail gel polish has gradually been sought after by people. How to judge the quality of nail polish is closely related to the quality of nail polish itself. In addition, it is also one of the judging criteria to be able to stay on the nail for a longer time. It is also critical that nail polish can be kept on the nail for a longer time.
The development of nail polish is gradually replacing nail polish, so what are the advantages of watery color gel polish?
1. Solvent-free, removable, odorless and environmentally friendly.
2. Strong adhesion, good toughness, no shrinkage, no cracking, compared with traditional nail polish, nail polish glue can be maintained for a longer time.
3. Due to its own characteristics, nail polish glue has strong plasticity, the nail pattern is diversified, and the temperature-changing glue is affected by the temperature and ultraviolet rays in different environments. The nail pattern will change color to meet the needs of different customers. This is also not comparable with nail polish.
Nail-removing steps: There are two main methods of nail-removing: 1. Use nail-removing water. Nail-removing water has different degrees of damage to nails. It is not recommended. 2. Nail-removal kits are commonly used in the market. The following are the ways to use armor-removal kits.
1.Remove the armor removal package
2.Wait for 10 minutes
3.Use a steel push to remove the armor surface
4, polished nail surface