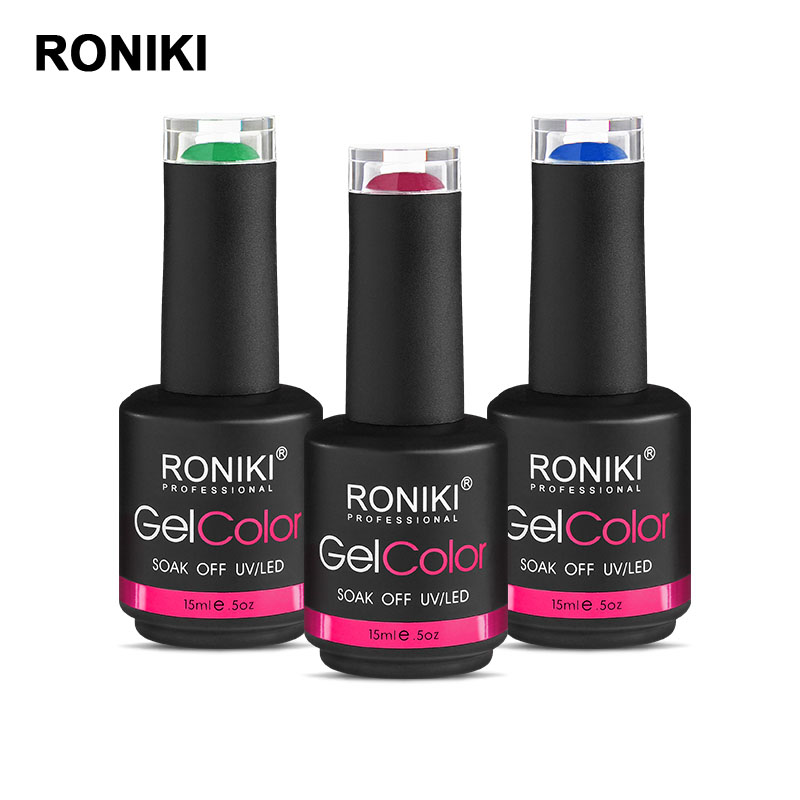 WHAT'S THE DIFFERENCE BETWEEN GEL NAIL POLISH AND REGULAR POLISH?
The main difference between gel polish and normal air-dry nail polish is the length of wear. When applied correctly, gel nail polish can last up to two weeks without chipping. Another big difference is the drying time. Because you use a LED lamp to harden gel nail polish, it dries much more quickly, so you can go about your life right away, without worrying about smudging.
HOW MUCH STRONGER IS GEL NAIL POLISH VS. REGULAR?
Gel polish lasts between 2-3 weeks at the minimum, while the regular polish is lucky to go a week without chipping. With light wear, your gel nails last at least twice as long as a normal polish, but realistically they get you four to six times a standard manicure mileage.
In terms of retained wear and tear, the gel polish will not chip the way regular polish is known to. If applied correctly, it is also not likely to smudge. The strength of this type of polish is evident in its removal process, and it's clear that you have to be very intentional about removing your gel polish to prepare for a new application.
MAKING THE SWITCH TO GEL NAIL POLISH
Gel nail polish has only been on the market since 2010. Still, the gel manicure has quickly become a salon staple. Nevertheless, for all those who are unsure about trying new gel polishes, we collected a list of their benefits for you:
1. Quick To Dry
Gel polish is thicker than ordinary nail polish. The primary feature distinguishing it from a classic manicure is a part of the curing application process since gel nail polish does not dry naturally.
Curing refers to placing your nails under an LED or UV light to activate the chemical process that dries each coat of polish. Given that gel nail application has additional time for the polish to cure, you can leave your appointment or at-home application immediately with perfectly dried nails.
2. Chip-Free
With a quick-drying, durable formula, gel polish hardly chips. Your gel manicure is highly resistant to chipping or smudging, and the color will stay as bright and shiny as it was on day one.
3. Long-Lasting
While gel polish is generally said to last at least two weeks, your gel manicure may last as long as one month — or as long as you want to keep it. The only long-term side effect of wearing gel nails for a while is that your nail will eventually grow out.
Removing gel nails is a slightly longer and more complicated process than removing regular lacquer, but the ability to get a manicure done once is worth the time it takes to remove.
HOW TO APPLY GEL POLISH VERSUS REGULAR NAIL POLISH
Prepping Your Nails
Whether you're applying gel or regular polish, it's a good idea to prep your nails first. Gel nail polish can be applied either to natural nails or acrylics. If applying to your natural nails, first remove all traces of your old polish and lightly buff your nails to help the polish stick.
To avoid applying color to your cuticles, gently push the cuticle back with an orangewood stick. Wash and thoroughly dry your hands to remove any residues. You might also want to use a nail cleanser and a primer.
Applying The Base Coat
Applying a base coat will help create the perfect finish for your gel nail polish. Start applying one-third of the way up the nail, upwards in a single stroke. Repeat at the sides of the nail, then push downwards towards the cuticle, avoiding actual contact with the cuticle itself. You can do this with regular nail polish too, but the main difference is that when using a gel base coat, you'll need to cure it under the LED lamp for 15 seconds.
Applying The Colour
Now to apply your chosen color. Apply two coats, curing under the LED lamp between each coat. This is where gel nail polish is way easier than traditional nail polish. With regular polish, you have to wait for each coat to air dry, whereas with gel nails, you'll be all done within a couple of minutes.
Once the color is dry, apply a clear top coat and cure again under the lamp.
It really is that simple. The tricky bit is choosing your color from our huge range of shades! If you want a kit to get you started, try RONIKI Gel Polish Starter Kit.